I love snow. Where I live we don't get much, maybe one or two snowfalls a year, but when it happens, it really happens. You know what I mean? Anyways, right now we're having one of the best snow times ever here! It's amazing, there's a foot of snow, it's the perfect kind of snow and it's like -8 degrees Celcius. I mean, I didn't know it could even get that cold! I had a shower this morning, and I went out side with wet hair and it started to freeze. Yeah, I'm totally serious. It snowed again today, so hopefully the good times will keep on rolling.

I've been thinking quite seriously about the new header and what I'm going to do about it. I want imput first though, no point putting up something no one will like. So here are a few choices....



I made this one in a moment of paralysing boredness. Well, less of a moment and more like 15 minutes. The thing is, I can't tell weither it's OUTRAGEOUSLY cool, or just plain suckish.


Most of the rest are all from my last post, I'm just putting them up again as a little refresher. I, having short term memory myself, know how much it sucks when someones talking about something as if you should know all about it, but you really have no clue and you just smile and nod.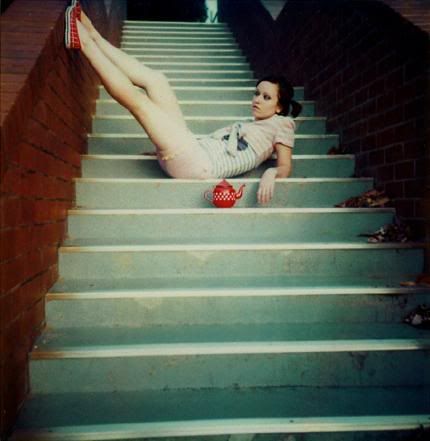 Erm.. so... yeah :D There you have it people. Tell me which ones your favourite and I'll hopefully have a pretty new header by.... sometime soon.
ps. Oh and I got on the blogroll of this site I'd never heard of before but they sent me an official looking email and everything. I never thought anyone would actually read and enjoy anything I have to post about, most of it is just insane rambling and, on occasion, muttering. Anyway, the site is called StyleList and it's a branch of AOL! To see the proof of the matter go here, scroll down and check out the BlogRoll. I'm certainly in good company too, I reconized lots of the blogs on there, like Dilemma Knows Fashion, Hipster Musings , Daddy Likey and Coutorture. I'm suprised they even found my blog, let alone linked me.